Opportunities Quad Cities
Opportunities Quad Cities
About Opportunities Quad Cities
Any meaningful effort to end poverty in the community will depend on multiple sectors working together in an adaptation of a "collective impact" approach that provides guidance to community members for how to work together to address difficult social issues. Ending poverty, not just lessening poverty, is obviously an overwhelming task – however, it is also an inspiring prospect. What would it mean to have all children graduate high school? What would it mean for all parents who have full time jobs to feel the pride in providing the basics for their children? Finally, what would it mean for all children and youth to see a community coming together to provide them with meaningful opportunities to build a future? According to 2016 statistics from United Way of the Quad Cities Area, 39% of residents in Rock Island County and 27% in Scott County struggle to pay for their basic needs.
When everyone has the right support and resources to fully contribute to our community, we all benefit. Open Door works to stabilize individuals and families experiencing crises by meeting immediate needs like food, clothing, finding a safe home or employment. Once out of crisis, the individual or family may be eligible to join the Opportunities Quad Cities program, a mentor-type relationship between trained volunteer "Navigators" (individuals not living in poverty) and "Neighbors" (individuals living in poverty). The Navigator helps the Neighbor identify barriers to moving out of poverty (such as lack of continuing education to qualify the Neighbor for a promotion or more long-term employment) and then helps him/her secure the services or supports needed to remove those barriers (such as connecting the individual to local community college programs and helping walk through the application process or navigate funding options). The Navigator is a trained volunteer who establishes a relationship with the Neighbor and through this intentional partnership empowers the Neighbor to utilize resources to influence his/her circumstances.
How Does the Program Work?
When a community member is raised in generational poverty or falls into financial distress due to crisis or unanticipated situations, the connection to successful, supportive networks can be lost. Without a network of peers, family, friends, or colleagues to provide guidance, knowledge, or advice based on expertise, an individual may not have opportunities needed to scaffold him or her to stability and success.
In addition, Open Door connects Opportunities Quad Cities participants with IH Mississippi Valley Credit Union to provide micro-loans. In this program, underbanked, unbanked, and those with poor credit or no credit can obtain short-term, low denomination loans to meet immediate needs while building credit for their financial futures. Micro-loans offer a viable alternative to predatory lenders who charge exorbitant interest rates that keep individuals in poverty. In addition to the micro-lending program, a partnership with Green Path and IHMVCU gives Neighbors access to free financial classes on topics like repairing credit, budgeting, and ways to recognize predatory lending.
By pairing a Neighbor with a Navigator who has specific knowledge or expertise in an area the Neighbor lacks, Opportunities Quad Cities gives hope and connection to community members who need support. The program in turn educates Navigators on the systemic issues and struggles facing individuals in poverty, so they can influence their own networks to make community changes that will benefit everyone.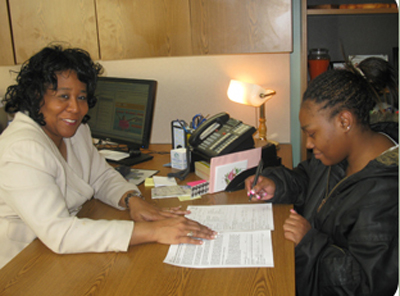 How Do I Get Involved?
If you or someone you know is struggling with poverty or crisis, contact Open Door to see what resources and support are available.
If you are interested in volunteering as a Navigator with the Opportunities Quad Cities initiative, learn more!
---
This project is the committed, comprehensive work of the Opportunities for Quad Citians committee, which includes: Jenny Garner, University of Illinois Extension - Chair, Gail Brooks - Rock Island Housing Authority, George Carizey - United Way of the Quad Cities, Alan Carmen - Rock Island Township, Michelle Couiseneau - Rock Island Housing Authority, Loredia Dixon - Skip-a-Long Family and Community Services-Open Door, Dwight Ford - Martin Luther King Center, Diane Fuller - Greater Metro Housing Authority, David Geenan - Doris and Victor Day Foundation, Rufus Greer, Jr. - Rock Island Housing Council, Melvin Grimes - Moline Housing Authority, Virginia Jarrett - Rock Island-Milan School District, Latrice Lacy - Davenport Civil Rights Commission, Libby Honts - University of Iowa, Marcy Mendenhall - SAL Family and Community Services, Matt Mendenhall - Regional Development Authority, Rick Schloemer - Scott County Housing Council
Thank you to our dedicated community partners: local public housing authorities, SAL Family and Community Services - Open Door, University of Illinois Extension, United Way of the Quad Cities Area, Scott County Housing Council, Doris and Victor Day Foundation, Progressive Action for the Common Good, education representatives, faith-based organizations, Community Foundation of the Great River Bend.