Stabilization Services
Stabilization Services
Stabilization Services
SAL Community Services believes everyone can fully contribute to our community with the right support and resources to help weather life's storms. Our stabilization services offer one-stop resources to connect to food, clothing, finding a safe home, transportation, and other immediate crisis needs.
Coordinators can help you to remove barriers, learn about available resources to help meet for your needs, connect you to supports as needed, and help you work through stressful situations. Our coordinators navigate community resources with you and help you find the right support to move forward.
Serving Rock Island, Henry, Mercer Counties in Illinois
1609 4th St., Bldg. 2
Rock Island, IL 61201
(309) 793-8201
Welcoming Center is a one-stop human service center for immigrant, refugee, and non-English speaking individuals and families.
We now offer services in several different language: Spanish, French, Kimbembe, Lingala, Swahili, and English!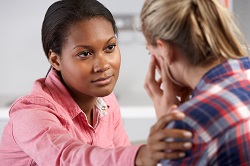 ---
The Effects of Poverty on Our Community
According to the Iowa Policy Project (2017), a single adult with no children needs to make $11.61 hourly, or $23,414 gross income annually, to cover basic monthly expenses. According to the Federal Poverty Guideline (2017), which determines whether an individual or family meets eligibility requirements for certain temporary or emergency assistance programs, the same single adult must make no more than $5.80 hourly, or $12,060 gross income annually.
In Scott County, IA, 12.4% of residents live in poverty, with 13.2% of Rock Island County, IL residents living in poverty (U.S. Census Bureau, Income and Poverty Estimates, 2015). These individuals, our very neighbors, are faced with the difficult choice of paying their rent or putting food on the table, a choice which often leads to the family becoming homeless. By removing a crisis before it becomes damaging to the individual or family, and helping to build well-being, Open Door removes barriers and helps people in our community move forward to success.
Open Door collaborates with the Opportunities Quad Cities initiative to partner Neighbors (anyone struggling with poverty) with volunteer Navigators (people who are not struggling with poverty). Navigators connect Neighbors to resources or people in their circles who can offer support or guidance with specific issues that are preventing the Neighbors from moving out of poverty. Open Door customers can be part of Opportunities Quad Cities and work one-on-one with a Navigator to find options for continuing education, finding secure employment, working through legal issues, and many other barriers that prevent them from becoming financially self-sufficient.