Crisis Assistance
Crisis Assistance
What is Open Door?
SAL Community Services' Open Door Crisis Assistance believes everyone can fully contribute to our community with the right support and resources to help weather life's storms. Open Door is a one-stop resource to connect to food, clothing, finding a safe home, transportation, and other immediate crisis needs. Coordinators can help you understand and apply for state assistance programs in both Iowa and Illinois, learn about available resources for your needs, connect you to counseling or special support, and will help you work through stressful situations. Open Door will navigate community resources for you and can help you find the right support to move forward.
Welcoming Center
Rock Island, Henry, Mercer Counties in Illinois
1609 4th St., Bldg. 2
Rock Island, IL 61201
(309) 793-8201
Open Door Crisis Assistance
Scott County in Iowa
(Inside Friendly House)
1221 N. Myrtle St.
Davenport, IA 52804
(563) 265-5500
How do I get help from Open Door?
Qualifying for Open Door's Rock Island, IL program office:
You must live in Henry, Mercer, or Rock Island county in Illinois
You must have an eviction notice, utility shutoff, or other document/issue that is considered a crisis situation

Qualifying for Open Door's Davenport, IA program office:
You must live in Scott County, Iowa
You must have been a witness or victim of a crime (any crime, reported or unreported)
Help is still available if you have not experienced a crime but have an issue that is considered a crisis situation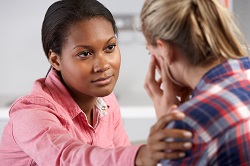 How Open Door Works
Open Door serves as a one-stop resource for multiple crises/needs by navigating local services and working with participants through these steps:
An Open Door Coordinator receives a program participant through a referral from a collaborating agency such as: Davenport and Bettendorf Police Departments, Illinois and Iowa Departments of Human Services, Project Now, SEAP, the Family and Community Resource Center (FCRC), local housing authorities, Township offices, and other community stakeholders.
Through a motivational and solution-focused interview intake process, the Coordinator works with the individual or family to identify immediate needs and existing resources.
Once these needs are identified, the Coordinator provides on-site help when possible or makes contact with a collaborating community resource to provide assistance to meet immediate needs.
The Coordinator assesses through intake whether any secondary or long-term needs exist as well (e.g. mental health services, domestic violence support services), and provides case management and connections to additional resources to help prevent future crises.
Referrals to community-based victim service programs (e.g. legal, mental health, victim support) and other resources as appropriate (e.g. employment, transportation, housing) provide access to multiple programs delivered by a variety of community organizations, while keeping a holistic, strength-based, trauma-informed, and culturally- and linguistically-appropriate, one-stop environment.
---
The Effects of Poverty on Our Community
According to the Iowa Policy Project (2017), a single adult with no children needs to make $11.61 hourly, or $23,414 gross income annually, to cover basic monthly expenses. According to the Federal Poverty Guideline (2017), which determines whether an individual or family meets eligibility requirements for certain temporary or emergency assistance programs, the same single adult must make no more than $5.80 hourly, or $12,060 gross income annually.
In Scott County, IA, 12.4% of residents live in poverty, with 13.2% of Rock Island County, IL residents living in poverty (U.S. Census Bureau, Income and Poverty Estimates, 2015). These individuals, our very neighbors, are faced with the difficult choice of paying their rent or putting food on the table, a choice which often leads to the family becoming homeless. By removing a crisis before it becomes damaging to the individual or family, and helping to build well-being, Open Door removes barriers and helps people in our community move forward to success.
Welcoming Center, located at our Rock Island office, provides crisis assistance for immigrant, refugee, and non-English speaking individuals and families.
We now offer services in several different language: Spanish, French, Kimbembe, Lingala, Swahili, and English!
Open Door collaborates with the Opportunities Quad Cities initiative to partner Neighbors (anyone struggling with poverty) with volunteer Navigators (people who are not struggling with poverty). Navigators connect Neighbors to resources or people in their circles who can offer support or guidance with specific issues that are preventing the Neighbors from moving out of poverty. Open Door customers can be part of Opportunities Quad Cities and work one-on-one with a Navigator to find options for continuing education, finding secure employment, working through legal issues, and many other barriers that prevent them from becoming financially self-sufficient.